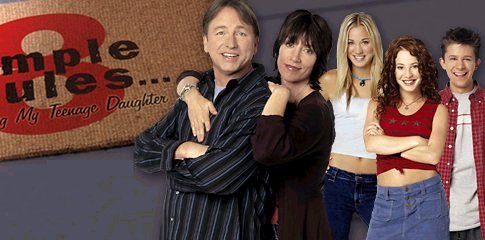 ---
September 17, 2002 - April 15, 2005
ABC Situation Comedy - 76 Filmed Episodes

Cast:
| | |
| --- | --- |
| Cate Hennessy: | Katey Sagal |
| Paul Hennessy: | John Ritter |
| Bridget Hennessy: | Kaley Cuoco |
| Kerry Hennessy: | Amy Davidson |
| Rory Hennessy: | Martin Spanjers |
| Grandpa Jim: | James Garner |
| C.J. Barnes: | David Spade |
| Kyle: | Billy Aaron Brown |
| Principal Ed Gibb: | Adam Arkin |
| Jenna Sharpe: | Nikki Danielle Moore |
| Tommy: | Larry Miller |
| Zac: | Liam Kyle Sullivan |
| Anthony: | Cole Williams |
| Rachel Sharpe: | Nicole Mansour |
| Donny Doyle: | Thad Luckinbill |
| Artie: | Artie Anderson |
| Andre: | Howard Alonzo |
| Danielle: | Amanda MacDonald |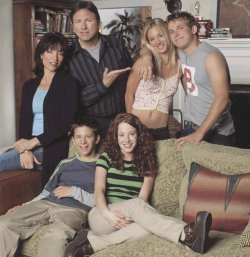 This is a charming family comedy about a loving,
rational dad who suddenly discovers that his two
darling daughters have unexpectedly morphed into
hormonally-charged, incomprehensible teenagers.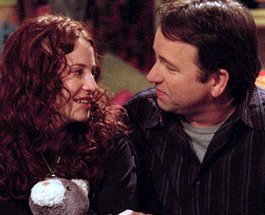 Paul Hennessy has grown accustomed to his stay-at-home
wife Cate taking care of their son and two daughters. His
job as a sports writer kept him on the road a lot during the
kids' formative years. But when Cate decides to return to work
as a hospital nurse, Paul takes a job as a columnist and agrees
to make the duties of raising the kids a shared experience.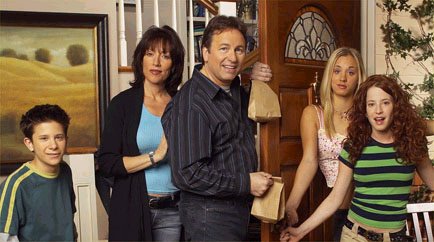 Paul fondly remembers the days when his daughters would sit on
his lap singing silly songs, and he was their hero for scaring
away monsters from under the bed. But those days are long gone.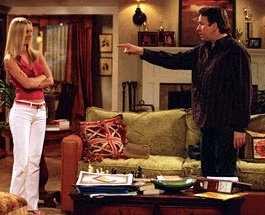 Although not new to fatherhood, Paul is just a bit rusty on
day-to-day interaction and discovers that he's grown a little
out of touch with his kids -- especially his daughters. His value
has been reduced to a wallet and a ride to the mall. Sixteen-year-old
Bridget had matured into a beautiful and popular teenager with a
different boyfriend each wek and a taste for fashion that tends
to be a little too revealing for her father's taste. By contrast,
15-year-old Kerry is intelligent and cute, but her lack of
self-confidence has led her to hide behind a mask of sarcasm.
Thank goodness for 13-year-old son Rory, fondly referred to as
"The Boy" by Paul and Cate, who remains on the sane
track ... at least for the time being.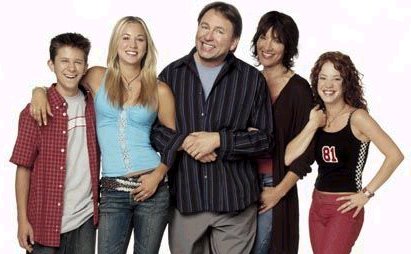 Though Bridget and Kerry still love their father, Paul has to come
to grips with the fact that he is no longer the most important man
in their lives at the moment. Dating boys and fitting in with their
peers are the girls' top priorities. No matter what they do, Paul
has one major rule that will never change -- "If you make my
daughters cry, I'll make you cry."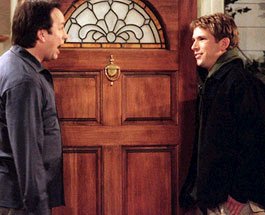 It's a time for healing in the second season as the family learns
to deal with life without family patriarch Paul, as the Hennessys
discover the frailties of life and the strength of the family unit.
Cate now finds herself in the precarious position of raising three
teenagers on her own while holding down a full time job as a hospital
nurse near their Detroit-area home. She does, however, get a little
relief, thanks to her father, Jim, who's been staying at the house
since Paul's death. But the family is thrown for a loop when Cate's
wayward nephew, C.J., moves in and finds it hard to resist getting
himself into trouble or offering questionable advice to the kids.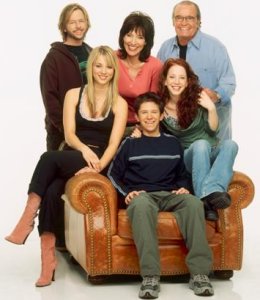 Click HERE to download theme song.
(Theme song provided by Todd Fuller's Sitcoms Online.)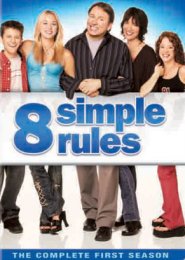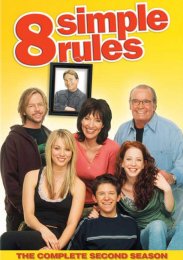 Click on the images above to purchase seasons one and two on DVD!


Click HERE to purchase TV books and videos!
---

The 8 Simple Rules Site
Fan Site - Author Unknown

8 Simple Rules
From TV.com

8 Simple Rules
From TVGuide.com

8 Simple Rules
From Wikipedia

8 Simple Rules for Dating My Teenage Daughter
By PB

8 Simple Rules Message Board
From Todd Fuller's Sitcoms Online

Episode Guide
From EpGuides.com
These links were last tested September 2002.
---
Check out this classic TV Guide cover...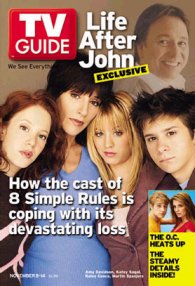 ---