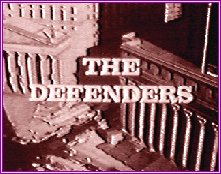 ---
September 16, 1961 - September 9, 1965
CBS Courtroom Drama - 132 Filmed Episodes

Cast:
| | |
| --- | --- |
| Lawrence Preston: | E.G. Marshall |
| Kenneth Preston: | Robert Reed |
| Joan Miller: | Joan Hackett |
| | Rosemary Forsyth |
| Helen Donaldson: | Polly Rowles |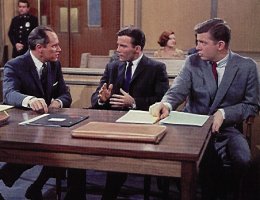 The law firm of Preston & Preston was composed of a father
and son, two lawyers involved in a weekly courtroom drama.
Lawrence, the father, was a knowledgeable, seasoned
attorney with more than twenty years experience at the
bar. Kenneth, the son, was a recent law school graduate.
The learning process he went through as his father's
partner was a integral part of this series. During the
first season the firm's secretary, Helen Donaldson, and
Kenneth's girlfriend, Joan Miller, had featured roles.
The series was based on an original story by Reginald
Rose, which was telecast in 1957 as a two-part episode
of Studio One starring Ralph Bellamy and William Shatner
as the father and son attorneys, with Steve McQueen
as a young defendant accused of murder.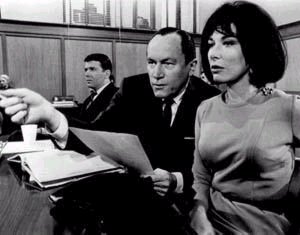 Click HERE to order TV books and videos!
---

The Defenders
From The Internet Movie Database

The Defenders
From The Museum of Broadcast Communications

The Defenders
From TV.com

The Defenders
From Wikipedia

E.G. Marshall Profile
By Who 2

Episode Guide
From EpGuides.com
These links were last tested April 2001.
---
Check out these classic TV Guide covers...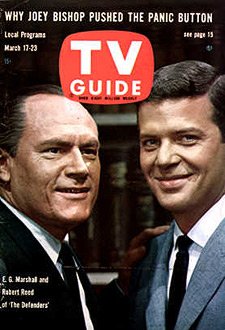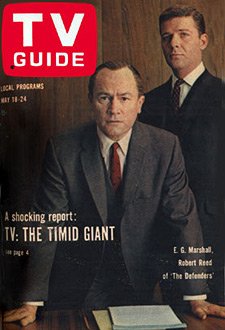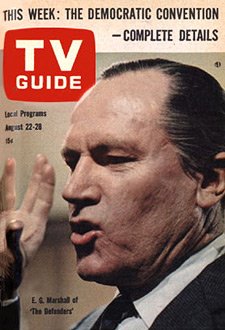 ---