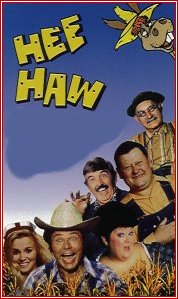 ---
June 15, 1969 - 1993
CBS & Syndicated Variety series

Hosts:
Roy Clark
Buck Owens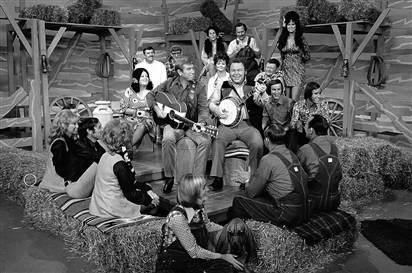 Regulars:
Cathy Baker (1969-1991)
Jennifer Bishop (1969-1971)
Archie Campbell (1969-1987)
Jim Hager (1969-1986)
Jon Hager (1969-1986)
Gunilla Hutton (1969-1991)
Louis M. "Grandpa" Jones (1969-1992)
Jackie "Hambone" Phelps (1969-1986)
Don Rich (1969-1975)
Jimmy Riddle (1969-1983)
Jeannine Riley (1969-1971)
Alvin "Junior" Samples (1969-1984)
Diana Scott (1969-1970)
Lulu Roman (1969-1992)
David "Stringbean" Akeman (1969-1974)
Gordie Tapp (1969-1992)
Mary Taylor (1969-1970)
Sheb Wooley (1969)
The Buckaroos (1969-1986)
The Hee Haw Band (1969-1992)
The Nashville Edition (1969-1991)
Donald Harron (1969-? as Charlie Farquharson)
Minnie Pearl (1970-1991)
Lisa "Sunshine" Todd (1970-1986)
Barbi Benton (1971-1976)
Sherry Miles (1971-1972)
Ray Sanders (1971-1972)
Harry Cole (1972-1976)
George Lindsey (1972-1992)
Ann Randall (1972-1973)
Marianna Gordon Rogers (1972-1991)
Misty Rowe (1972-1991)
Gailard Sartain (1972-1992)
Roni Stoneman Hemrick (1973-1991)
Kenny Price (1974-1988)
John Henry Faulk (1975-1982)
Buck Trent (1975-1982)
Billy Baker (1975-? as Elwood Smooch)
Charlie McCoy (1976-1992)
Linda Thompson (1977-1992)
Mackenzie Colt (1978-1982)
Rev. Grady Nutt (1979-1983
Roy Acuff (1980-1985)
Victoria Hallman (1980-1990)
Rodney Lay (1980-1987)
The Wild West & Fanci (1980-1989)
Diana Goodman (1981-1985)
Slim Pickens (1981-1983)
Chase Randolph (1981-1982)
Nancy Taylor (1981-1982)
Jonathan Winters (1983-1984)
Kelly Billingsley (1984-1987)
Irlene Mandrell (1984-1992)
Jeff Smith (1984-1991)
Jackie Waddell (1984-1987)
Patricia McKinnon (1985-1986)
Dub Taylor (1985-1991)
Mike Snyder (1987-1991)
Vicki Bird (1989-1991)
Terry Sanders (1989-1991)
Bruce Williams and Terry Ree (1989-1991)
Phil Campbell (1990-1992)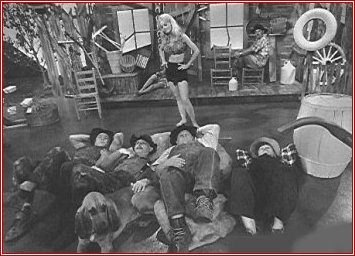 Hee Haw was country music's answer to Rowan & Martin's
Laugh-In. Blackouts, nutty running gags, cameos, and some
of the worst "corny" one-liners imaginable, appropriately
delivered from a cornfield. An animated donkey was
used to react to the humor, and to provide the
"hee haw" of the title.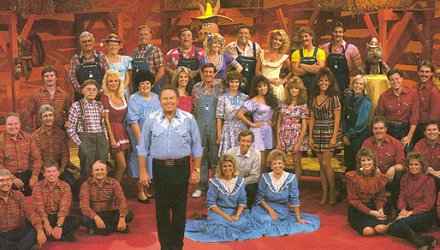 Click HERE to download theme song.



Click HERE to purchase TV books and videos!
---

Hee Haw!
An Official Website

The Buck Owens Homepage
By Unknown

Hee Haw
From TV.com

Hee Haw
From Nostalgia Central

The Hager Twins
Official Website
These links were last tested March 2001.
---
Check out these classic TV Guide covers...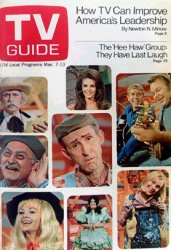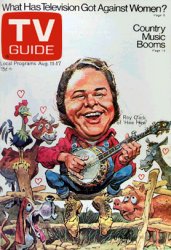 ---