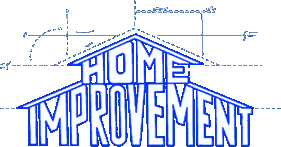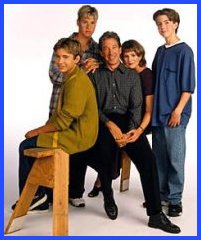 ---
September 17, 1991 - May 25, 1999
ABC Situation Comedy - 203 Filmed Episodes

Cast:
| | |
| --- | --- |
| Tim Taylor: | Tim Allen |
| Jill Taylor: | Patricia Richardson |
| Brad Taylor: | Zachery Ty Bryan |
| Randy Taylor: | Jonathan Taylor Thomas |
| Mark Taylor: | Taran Noah Smith |
| Wilson Wilson: | Earl Hindman |
| Al Borland: | Richard Karn |
| Lisa: | Pamela Anderson |
| Heidi: | Debbe Dunning |
| Harry: | Blake Clark |
| Ilene Markham, D.D.S.: | Sherry Hursey |
| Benny Veroni: | Jimmy Labriola |
| Marty Taylor: | William O'Leary |
| Karen: | Betsy Randle |
| Gracie Taylor: | Ashley Trefger |
| Claire Taylor: | Lindsey Trefger |
| Jennifer Sadarski: | Jessica Wesson |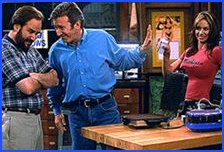 Stand-up comic Tim Allen, who specialized in macho humor,
brought his act to television in this comic saga of a man
and his tool belt. Tim "The Tool Man" Taylor was a local
celebrity in Detroit with his cable TV show Tool Time, a
cheerful mix of fix-it advice and humor sponsored by Binford
Tools. His answer to every problem: more power! At home he
was a bit of a klutz, however, and when he strapped on his
tool belt and whipped out his drill like a six-shooter, the
kids cleared out. Frustrated wife Jill tried to keep him
away from the appliances but to no avail; sons Brad, Randy,
and winsome little Mark offered varying degrees of help;
and neighbor Wilson, never clearly seen over the backyard
fence, philosophized about the meaning of everything.
Al was Tim's knowing helper on Tool Time, along with
Lisa, the buxom "tool girl" (succeeded by Heidi in 1993).


Click HERE to download theme song.
(Theme song provided by Todd Fuller's Sitcoms Online.)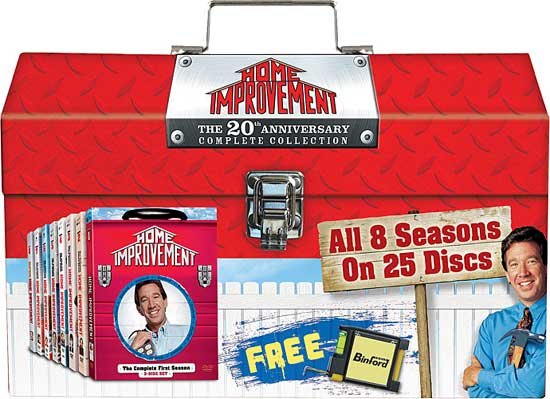 Click on the image above to purchase the complete series on DVD!


Click HERE to purchase Home Improvement videos!
---

Official Touchstone Website

Episode Guide
From EpGuides.com

Episode Guide
By Hu's EpisodeGuides.com

Home Improvement Archive
By Duncan Taylor

Home Improvement Cyberfans
By Michael Cisar

Home Improvement Message Board
From Todd Fuller's Sitcoms Online

Home Improvement
From TV.com

The Home Improvement Zone
By Luke

Tim Allen
An Official Website

The Unofficial Home Improvement Fans Forever Web Site
By sfmcats@aol.com
These links were last tested July 2001.
---
Check out these classic TV Guide covers...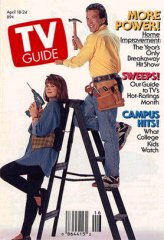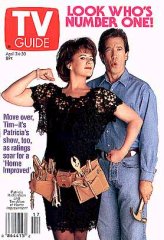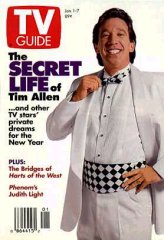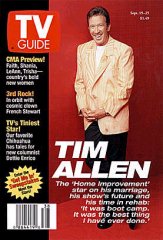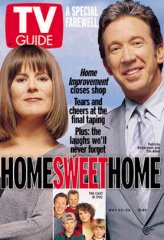 ---