---
March 25, 1986 - August 6, 1993
ABC Situation Comedy - 150 Filmed Episodes

Cast:
| | |
| --- | --- |
| Balki Bartokomous: | Bronson Pinchot |
| Larry Appleton: | Mark Linn-Baker |
| Donald Twinkacetti: | Ernie Sabella |
| Edwina Twinkacetti: | Belita Moreno |
| Susan Campbell: | Lise Cutter |
| Mary Anne: | Rebeca Arthur |
| Jennifer: | Melanie Wilson |
| Harriette Winslow: | Jo Marie Payton-France |
| Lydia Markham: | Belita Moreno |
| Harry Burns: | Eugene Roche |
| Sam Gorpley: | Sam Anderson |
| Mr. Wainright: | F.J. O'Neil |
| Tess Holland: | Alisan Porter |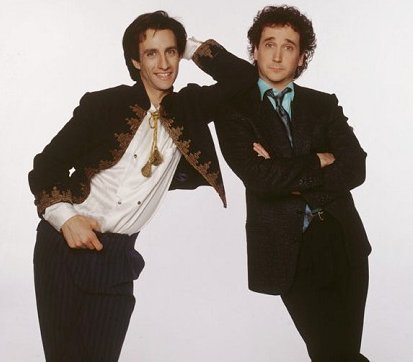 This slapstick "buddy comedy" explored the wonderment
of a newly arrived immigrant at the ways of America.
Balki was a young shepard from the Mediterranean
island of Mypos, who showed up unexpectedly at the
Chicago apartment of his distant cousin Larry.
Balki's wide-eyed, fun-loving manner, his nutty
Myposian customs, and his tendency to take every-
thing Americans told him quite literally, promised
considerable disruption for Larry's carefully
organized life, but Larry took him in. After all,
getting started as a shepard in Chicago
was not going to be easy.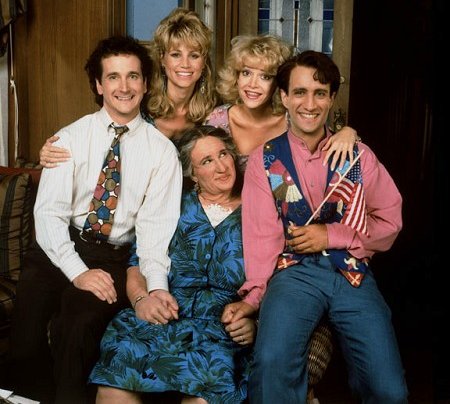 Larry was just getting started himself, hoping to
become a photojournalist. For the time being he
worked downstairs at the Ritz Discount Shop, run
by a greedy, insensitive man named "Twinkie."
Susan was Larry's friend, a nurse who lived
upstairs. She was soon replaced by Mary Anne and
Jennifer, two stewardesses who lived in the building.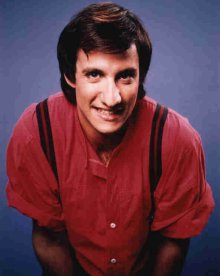 Stories involved Balki's comic misadventures as he
learned about America, studied citizenship at night
school, and chased girls with Larry. His answer to
every problem: "Don't be ridikalus!" In 1987 they
both went to work for the Chicago Chronicle, Larry
as a cub reporter and Balki in the mailroom.
Harriette was the wisecracking elevator operator
at the paper, Harry the editor, Lydia the neurotic
advice columnist, and Mr. Gorpley was
Balki's scrooge-like boss.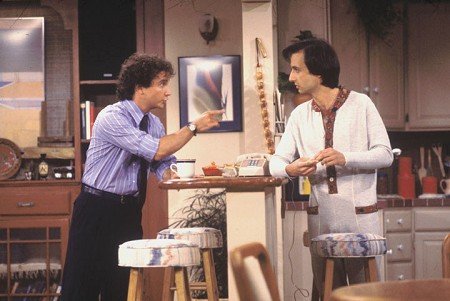 Click HERE to download theme song.
(Theme song provided by Todd Fuller's Sitcoms Online.)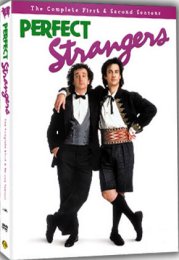 Click on the image above to purchase seasons one and two on DVD!


Click HERE to purchase TV books and videos!
---

Episode Guide
From EpGuides.com

Perfect Strangers
Fan Site by Lauren

Perfect Strangers
Fan Site by TangmaN'z

Perfect Strangers Message Board
From Todd Fuller's Sitcoms Online

Perfect Strangers
From The Internet Movie Database

Perfect Strangers
From TV.com

Perfect Strangers
From Wikipedia

P.S. I Love You!
Fan Site by Linda Kay

Perfect Strangers: The Legacy Continues
By Tredder
These links were last tested August 2001.
---
Check out this classic TV Guide cover...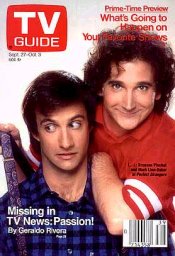 ---